Meet Delia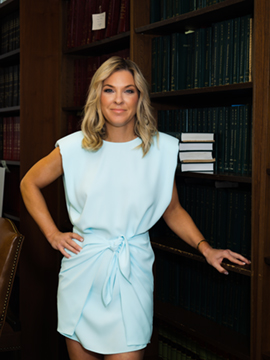 Delia is an active and dedicated community volunteer, business owner and United States Army Veteran who has lived in Summit for over 10 years. All three of her children attend the Summit Public School system.
She will bring her unique experience in business, security and service to the City of Summit. Delia will be a strong advocate for common sense solutions to address the needs of the community.
During her time as a student at the University of Pittsburgh, she was a cadet in the Reserve Officers' Training Corps. Immediately upon graduation, Delia was commissioned as a 2nd Lieutenant in the United States Army Transportation Corps and was stationed at Fort Eustis, Virginia.
After a brief training deployment in Korea, she quickly raised her hand for deployment in Camp Doha Kuwait in 2001. Delia was responsible for the health, safety, and welfare of two Logistical Support Vessels in Kuwait. She was deployed in Kuwait during September 11th, 2001 and had the responsibility of leading her soldiers and warrant officers through Operation Enduring Freedom. Later serving as an Executive Officer for the 155th Transportation Company in Fort Eustis, Virginia.
A decorated Veteran, Delia's Military Awards include the Defense Meritorious Service Medal, Joint Service Commendation Medal, Army Commendation Medal, Army Achievement Medal, National Defense Service Medal, Global War on Terrorism Medal, Armed Forces Expeditionary Medal, Army Service Ribbon, and Parachutist Badge.
Delia's roots are deep in Summit's community. She was a Board Member of the Central Presbyterian Nursery School and volunteered at the Lincoln Hubbard PTO. Recently, she raised over $200,000 for Canoe Brook Country Club employees in need during the pandemic.